Alexander Nettelbeck

Home /Bio/ Live /Listen& Watch/Tuition /Projects/ Compositions/ Discography/Contact /Links

Music Lessons in Melbourne

Alexander Nettelbeck offers piano& keyboard lessons in Melbourne, Australia.

Alexander's aim in teaching is to enable students to play comfortably

and confidently in the music of their choice as well as providing you

with the opportunity and skills to experience the joy of piano playing

in a range of musical styles. His students range from junior school age

to high school and tertiary level, professional adults and seniors.

All are welcome, beginners, intermediate and advanced.

One-on-one private lessons and small-group instruction in piano

and keyboard are held weekly in a friendly and relaxed environment

at the music studio , Glenferrie Rd, Malvern.

Lessons are tailored to suit your individual needs and to help you reach your goals

in music making.

Areas taught include:

•how to develop great piano and keyboard playing skills

•understanding melodies, chords and scales

•playing new pieces from classical, jazz and contemporary repertoire

•improving aural/listening and sight reading abilities

• how to be creative through improvisation- based contemporary music styles

•audition, concert, exam or recording preparation for pianists,singers and instrumental players



•lessons for songwriters and music producers in jazz, latin, r&b, pop/rock, EDM and world music styles

• FaceTime and Skype lessons available

Testimonials

" Being an absolute novice at the age of 24, I started tuition with Alexander and was nervous about what to expect. I soon found I had nothing to worry about. Alexander is a patient and dedicated tutor who took time in teaching me the very basic foundations of music theory and piano. I enjoyed my lessons immensely ... have since started an Advance Diploma in Sound Production which I couldn't have done without Alexanders help"-Stephen R.

"As a teacher myself, I carefully choose who I learn from. Alexander has a wide range of musical knowledge and skills and so was able to quickly identify my musical needs. In a few months I was able to play for my singing students and myself with a lot more confidence and skill. I am very grateful to have found him and would highly recommend him to anyone! "-Claudia

'I was a rather self trained pianist, looking for a thorough musician who can look outside of the box and give me specific lessons to bind better my musical adventures with musical knowledge. Quite amazed in taking lessons with Alexander I could feel the better flow of energy in my fingers while playing and improvising. He has also opened the door to a better understanding of the chords and rhythm which helped me a lot in composing my own pieces."

-Sina

"I had taken piano lessons from the age of seven until the age of seventeen and took a break from them during my VCE and university studies. I really enjoyed Alexander's lessons. He is an accomplished pianist and his lessons were always very easy going. He allowed me to make decisions as to what I wanted to learn and what aspects of piano playing I wanted his help with. I would strongly recommend Alexander as a piano teacher for people of all ages and skill levels." -Jess

"Alexander listened to what I wanted to achieve from our very first meeting, and tailored my tutoring accordingly. My lifetime dream of playing The Blues spontaneously in public became a reality very quickly, backed up with solid theory, great techniques, and always an interesting background into music in general. Alexander is very talented with his subject at multiple levels.. I'd highly recommend his services, whether you're a complete beginner or someone looking to push yourself further "-Steve H.

" A couple of years ago I decided that I would learn the piano.  I chose to have Alexander Nettelbeck  teach me. Alexander is patient and extremely knowledgeable.  I would recommend him to anyone who is wanting to learn the piano." -Janet.

" Having not played piano for 30 years, Alexander Nettelbeck took on the task of teaching me.

I found Alexander to be patient, professional and pleasant. In 6 months of lessons he was able to bring me to a level where I could sit down at the piano and play the songs I enjoy. I have no hesitation in recommending Alexander to others". -GG

"I studied with Alexander to improve my ability to make and create better dance music; in that time my music theory, music production and piano playing, improved dramatically. Alexander took me back to the fundamentals of technique, music theory, riff development, to be able to play piano and of course make better music. Alexander is a fantastic teacher and very thorough in his schooling! I have no hesitation in recommending Alexander and in fact look forward to working with him again." -Marlon

Studio location: Glenferrie Rd Malvern, Victoria, Australia

Lesson times: by appointment

About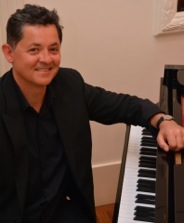 Alexander Nettelbeck (BFA Contemporary Music/ Hons VCA/MCM) is a classically and jazz trained musician with many years experience in teaching all levels from beginners and intermediate to advanced/professional. Alexander has recorded and toured throughout Australia, Europe, Asia and New Zealand working with a diverse variety of artists in many musical idioms from jazz, to folk, swing, reggae, blues, R&B, bossa nova, electronic and world music. Alexander studied with teacher/mentors Tony Gould, Bob Sedergreen, Alan Zavod and Agrita Klauvert.

Booking your lesson

Piano lessons for are for one hour, 45 or 30 minutes based on the recommendation of your teacher.

To enquire about booking a lesson please email:  info@anmusic.com.au

or phone: +61 (Australia) (0) 425 223 404

Studio policy

Click here for complete studio policy

All new students are required to have an initial lesson. The initial lesson is to assess your musical interests and to plan your program to help you reach your musical goals ! 

***Gift Vouchers if you are looking for a musical gift for family and friends why not give a gift voucher for  piano lessons at the music studio in Malvern ! Suitable for all ages, beginners to advanced are welcome.  Enquire here

http://www.musicteacher.com.au/alexander-nettelbeck/

2020 Alexander Nettelbeck